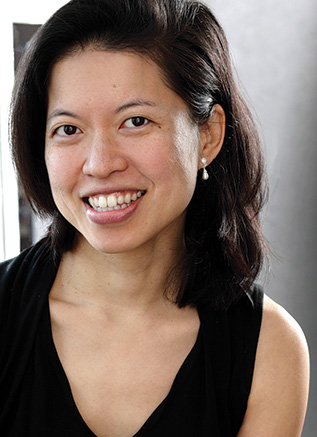 American Composer: Beata Moon by Kyle Gann
A versatile musician acclaimed for her expressivity and sincerity, Beata Moon continues to reach audiences through her many-faceted roles as composer, pianist, educator, impresario and activist. An American of Korean descent, Moon was born in North Dakota and raised in Indiana, where she began studying piano at age five. She made her orchestral debut with the Indianapolis Symphony Orchestra at age eight and concertized throughout the Midwest, giving recitals and appearing with various orchestras in the region. Moon graduated with a Bachelor of Music degree from the Juilliard School where she was a student of Adele Marcus.
After completing a semester of the Masters Degree Program at Juilliard, she took a break from playing to reflect on what music meant to her personally. It was at this time that she discovered composing and teaching, which resulted in a return to performing.
The role of the composer as performer and educator is an important one in Moon's life. She is an ardent ambassador for new music and has enjoyed working as a music television host (WNYE; NY, NY) as well as an impresario in her outreach to broader audiences. Moon has also worked with youth in homeless shelters and performed in community facilities.
Moon composes music in a variety of genres: orchestral, concert band, solo instrumental, chamber, and vocal, including children's songs. Her four CDs of original music were enthusiastically received by press and public alike and continue to be broadcast throughout the world. Reviewer Andrew Druckenbrod of Gramophone magazine wrote, "Moon writes compelling music that is utterly sincere." She has created and performed interactive concerts for children for Musica Reginae, a classical music collective based in Queens, NY. Moon also works as a teaching artist for Carnegie Hall, Lincoln Center, the New York Philharmonic and Marquis Studios where she has led workshops and designed curricula tailored for students and participants of various backgrounds and disabilities.
Moon incorporates current social issues to use as inspiration for creative-choice making in her activities. She was recipient of the International Teaching Artist Collaborative grant and traveled to Seoul, Korea in 2019 to work with the El Sistema-based Orchestra Dream in Seongbuk and its teaching artists. Moon was one of the presenters at ITAC5 and digital ITAC6. She has facilitated conversations about race and restorative justice and believes in the power of music and the arts to heal and work towards social change. She is a staff developer at the Morningside Center for Teaching Social Responsibility.
Moon enjoys interacting with the audience in her piano recitals, which feature both traditional and contemporary works. She poses inquiry questions in her interactive recitals to engage and inspire curiosity from audience members and listeners. Moon was recipient of the "What Can We Do" grant supported by the Asian American Arts Alliance (A4) and the Asian American Federation.
Through her various roles as a teaching artist, performer, composer and activist, Moon is able to fulfill her wish to work musically with people of all ages and backgrounds. She believes that going beyond the listening experience, engaging in the actual composition and creation of music is an invigorating way to process life's varied experiences while striving towards social change. Moon hopes to reach and engage all people through her music and work.